It can be hard to tell whether someone is experiencing family violence. Sometimes people living with family violence are reluctant to call what's happening to them violence or abuse, or they may not even realise that's what they are experiencing. Often, people living with family violence blame themselves for what's happening to them. It is critical to be aware that the people you are delivering services to may be impacted by or at risk of family violence.
Some of the common warning signs to look out for are[1]:
They seem afraid of their partner or anxious to please them
They seem anxious or upset when you mention their partner or family situation
They tell you that their partner criticises or embarrasses them in front of other people
They tell you that their partner pressures them into doing things they don't want to
They talk about their partner being jealous, very angry or possessive
They say their partner 'doesn't like it when…' or talk about their partner not wanting them to do particular things
They don't seem comfortable making a decision about themselves or their health
They have unexplained physical injuries (bruises, broken bones, sprains, cuts, etc.) or give unlikely explanations for these
Their children seem anxious, afraid or nervous when the partner or ex-partner's name is mentioned
They say they don't want to leave the children with their partner or ex-partner
They say their partner or ex-partner checks in on them a lot (for example through text messages, calls, checking their social media, etc.)
Some indicators in the AOD context include:
The partner is keen to join in the session
The partner is doing the talking for your client
The partner humiliates your client and presents as the saviour
The partner walks up and down in front of the counselling room
The partner attempts to get your clients attention by texting
Your client is restless and indicates the partner is waiting for the session to finish
You might also be in the position to notice warning signs that a client is using family violence:
You know that there is an existing intervention order and you may then become aware through the stories that the client is telling you that they are making contact with the partner and breaching that order (which is a criminal offence)
You may observe jealous or controlling behaviours, threats to kill or harm the partner or children
They may disclose they are using family violence
If you encounter them with their partner you might notice how often they blame the partner, for example around their drug use
When engaging with people who maybe using family violence the victim survivor's safety is paramount.  The AOD practitioner should be guided by the MARAM requirements
MARAM evidence based risk factors
There are three categories of risk factors under the MARAM Framework includes three categories of risk factors:
Specific to an adult victim survivor's circumstances
Caused by perpetrator's behaviour towards an adult or child victim survivor
Additional risk factors caused by perpetrator's behaviour specific to children, which recognises that children experience some unique risk factors, and that their risk must be assessed independently of adult victim survivors.
For more information on risk factors: MARAM evidence based risk factors
Observable signs of trauma
MARAM Appendix 1 contains the observable signs of trauma that may indicate family violence. The document includes separate lists for adults, children and young people.
Substance use and family violence
Besides the MARAM evidence based risk factors and observable signs of trauma, an AOD practitioner might identify family violence whilst assessing substance use patterns, drivers and behaviours.
Four patterns of how family violence and substance use intersect have been identified.
The perpetrator uses their own substance use as an excuse and/ or justification of violence
The perpetrator uses a partners substance use to leverage power and control
A victim survivor attempts to assess and manage risk in relation to the perpetrators substance use
A victim survivor uses substances as a coping strategy for the violence.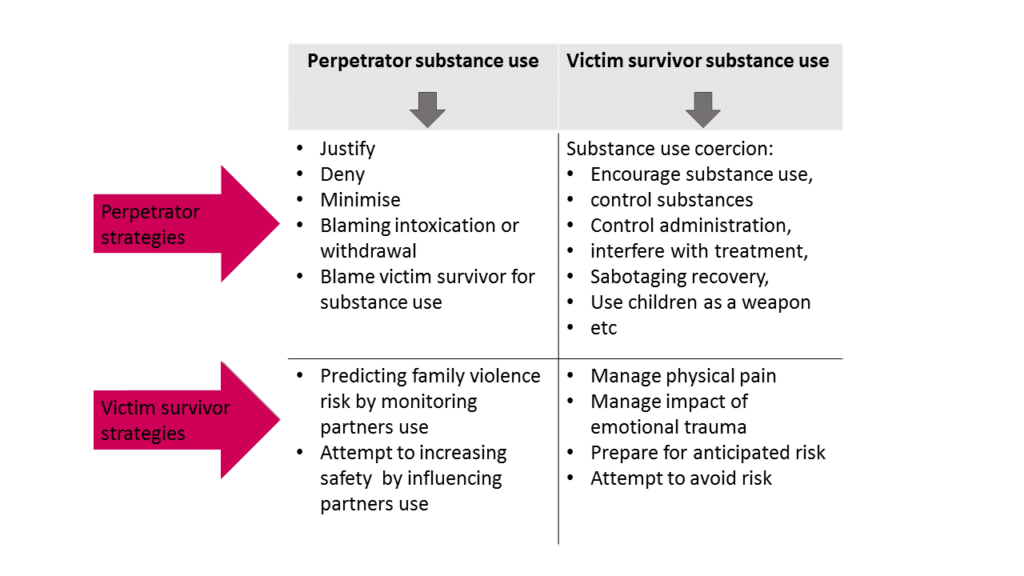 Substance Use Coercion
Substance use coercion is defined as abusive tactics targeted towards a partner's substance use as part of a broader pattern of abuse and control.
This often involves the use of force, threats, or manipulation and can include:
Forcing a survivor to use substances or to use more than they want
Using a survivor's substance use to undermine and discredit them with sources of protection and support
Leveraging a survivor's substance use to manipulate police or influence child custody decisions
Deliberately sabotaging a survivor's recovery efforts or access to treatment
Engaging substance use stigma to make a survivor think that no one will believe them
Forcing a partner into withdrawal, among many other tactics[2]
By recognising the different substance use coercion strategies used by the perpetrator the impacts on the victim survivor can be minimised, see below: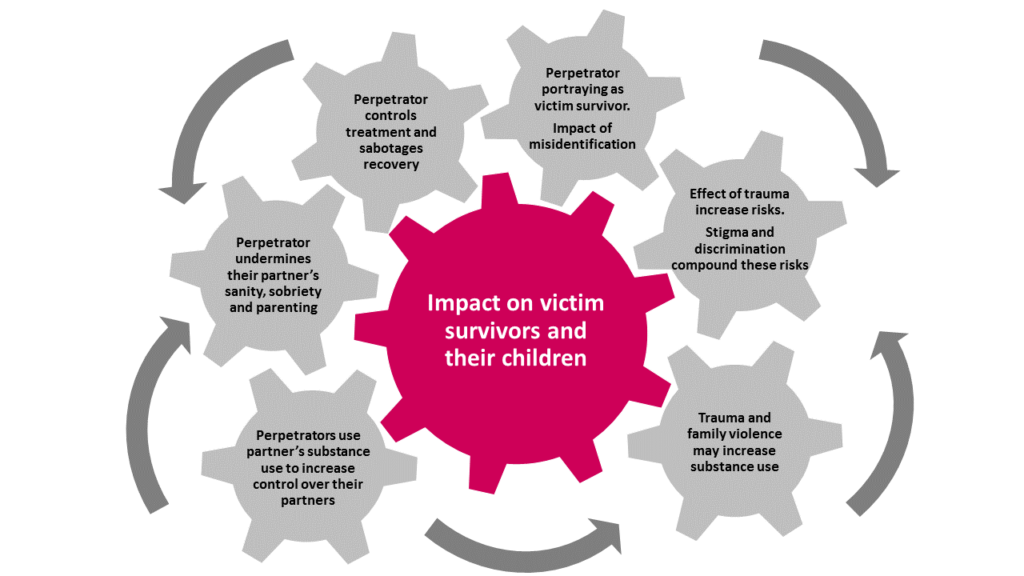 References
[1] National Center on Domestic Violence, Trauma & Mental Health; Coercion Related to Mental Health and Substance Use in the Context of Intimate Partner Violence: A Toolkit for Screening, Assessment, and Brief Counselling in Primary Care and Behavioral Health Settings Carole Warshaw, MD and Erin Tinnon, MSW, LSW http://www.nationalcenterdvtraumamh.org/wp-content/uploads/2018/03/NCDVTMH_MHSUCoercionToolkit2018.pdf
[2] National Center on Domestic Violence, Trauma & Mental Health; Coercion Related to Mental Health and Substance Use in the Context of Intimate Partner Violence: A Toolkit for Screening, Assessment, and Brief Counselling in Primary Care and Behavioral Health Settings Carole Warshaw, MD and Erin Tinnon, MSW, LSW http://www.nationalcenterdvtraumamh.org/wp-content/uploads/2018/03/NCDVTMH_MHSUCoercionToolkit2018.pdf