February 13, 2020
Posted by:

Caitlyn Wilson

Category:

Family Violence Newsletter
Welcome to VAADA's first family violence newsletter of 2020. The 2019-20 summer has been a difficult time for many families across Australia. The impact of the recent bushfires and other weather events on our communities are still unfolding, as is the need for sustained support over the coming weeks, months and beyond. Our thoughts are with the many families and children affected.  In the aftermath of a disaster, we know that domestic and family violence can increase, and that education and awareness are central to providing effective responses.
1800RESPECT provides information for professionals on understanding and responding to violence in times of disaster. Find out more here.
The Multi Agency Risk Assessment and Management (MARAM) training for the AOD sector (Brief and intermediate risk assessment and management) is announced and will take place from February until June across Victoria. The first sessions were booked out within a few days, but the Centre for Excellence in Child and Family Welfare Inc (CFECFW) is busy arranging additional training dates and more dates have been added already. We will keep you updated when the training list is finalised. More about MARAM training in this newsletter.
The Census of Workforces that Intersect with Family Violence 2019 will close February 28, 2020. The census needs your input for the design of future development of family violence interventions in the AOD sector. Please make sure you use your voice and complete this census.
In this edition we will also provide updates on available resources, training opportunities and the latest publications.
Multi Agency Risk Assessment and Management (MARAM) training for the AOD sector
MARAM has been developed in response to recommendation of the Royal Commission into Family Violence, which called for a risk assessment, risk management, information sharing and referral throughout Victorian agencies, including Victorian AOD services. MARAM has been established in law under a new Part 11 of the Family Violence Protection Act 2008, click here for more information. In short, this means that MARAM framework is legislated for Victorian AOD agencies.
MARAM has been developed to support services in effectively identifying, assessing and managing family violence risk.
To support the implementation of MARAM an integrated training package has been developed. For help on selecting the right MARAM training, you can view a decision tree here.
Below is an overview of training relevant for our sector:
Leading Alignment: This 1-day training session is for managers, directors and CEOs from organisations and agencies prescribed under MARAM. The training will help managers lead and embed MARAM within their organisation.
MARAM Leading Alignment promotes an understanding of the MARAM Framework including key strategies and requirements, like practice, policies and procedures to align with MARAM. Currently no training has been scheduled. For more information visit the Domestic Violence Resource Centre Victoria website.
Collaborative Practice: The training will focus on both collaborative practice and foundational aspects of Multi-Agency Risk Assessment and Management (MARAM) that enable collaboration for professionals responding to family. The training is available to all professionals who respond to family violence, including the AOD sector. The training session will explore how to contribute to risk assessment and collaborate for ongoing risk management through respectful and sensitive engagement with victim survivors, information sharing, referral and secondary consultation.  To register for this training, contact the Principal Strategic Advisor in your region. You can find this information at the Lookout website, or contact your local Specialist Family Violence Advisor for more details.
Information sharing: Victorian AOD services are Registered Information Sharing Entities and are legislated to the Family Violence Information Sharing Scheme (FVISS) and the Child Information Sharing Scheme (CISS). Currently no face to face training sessions have been scheduled, but you can access an online training module here.
MARAM training – Brief and Intermediate: DHHS, in partnership with the Centre for Excellence in Child and Family Welfare will be delivering MARAM training for practitioners in Designated Mental Health, AOD and Homelessness services and Child FIRST and Family Services who have roles that align with the Brief and Intermediate level of MARAM. Training relevant staff is a requirement for organisations who are aligning their policies and procedures to MARAM.
This training will support practitioners to understand their responsibilities under this important reform, including what it means for their day-to-day practice. Training is provided at no cost and will be conducted in both metropolitan and regional sites.
Register for training here, or contact the Centre for Excellence in Child and Family Welfare sue.wilson@cfecfw.asn.au
Family Safety Victoria (FSV) wants to hear from you!
The AOD sector is recognised as playing an important role in assessment and management of family violence. That's why all workers in the AOD sector are being asked to participate in the Census of Workforces that Intersect with Family Violence 2019. The census is designed to help shape the future of Victoria's family violence response, including the AOD service system. Your contribution is vital.
A portion of the AOD workforce has already completed the census. However, the census requires more responses in order to provide useable data and a clear picture of the needs of our sector. It will take no more than 20 minutes to compete.
Access the census here. 
Thank you again for your support, we really appreciate it!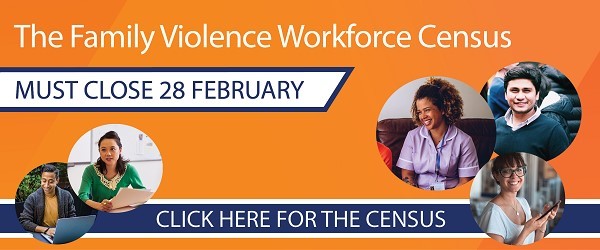 Information Sharing Resources
The aim of the Family Violence Information Sharing Scheme (FVISS) and the Child Information Sharing Scheme (CISS) is to promote the wellbeing and safety of children and keeping people who experience family violence safe and keep people who use violence in view. VAADA developed a number of resources to support the AOD sector with the application of these schemes.
The Navigator: VAADA developed an online tool, which is an interactive flowchart to support AOD services navigate the information sharing scheme requirements. The Navigator provides an overview of how the different components fit together and is a guide to information sharing. Each step in the process has downloadable factsheets with an in-depth explanation of each topic to help build your background knowledge. The Navigator is designed to complement information sharing training and is in line with the responsibilities of your role and alongside the policies and procedures of your organisation. You can access The Navigator here.
The Must/May model: VAADA worked with Our Curious Minds to create a flowchart of the legal pathways of information sharing and differentiates between when you MUST NOT and MUST share information or when you MAY share information. This flowchart is available for download on our website here.
VAADA has printed A1-sized posters of the model, which are available free of charge for AOD services. Over 750 posters have already been distributed across Victoria. Please contact Marije on mroos@vaada.org.au for more information.
Prompt cards: In light of the new information sharing legislation, VAADA has created 2 new prompt cards to add to your collection. One card guides you through the process of information sharing and one card provides clarity around consent requirements of the new schemes. The card will be available to order through VAADA's website here.
Resources for people experiencing family violence and gender-based violence:
Dentists rebuild smiles of women experiencing domestic violence
A filter to automatically block dick pics is set to launch this Valentine's Day
The 1800RESPECT Financial Abuse Support Toolkit
This toolkit has been developed with an expert advisory panel and women with lived experience to provide the best information and support. The toolkit provides information on what financial abuse may look and feel like, how to support someone impacted by financial abuse, and the steps you can take when you're ready to reach out. Access the toolkit here
Training opportunities
DV-alert online training
Free online training designed for frontline workers who are not able to attend a two-day face-to-face workshop. The training enables workers to recognise the signs of domestic violence, respond appropriately and refer if necessary. The course will take approximately 18 hours to complete and is provided over a set term of 10 weeks. Enroll here.
Australian Institute of Family Studies (AIFS) Webinar 26 February 2020
What is child-focused supervision in adult-focused services and how does it work?
Working with parents affected by alcohol and other drug use: Considering the needs of children in practice
Conference
27-28 February 2020 the 3rd Safe & Together Model Asia Pacific Conference: Domestic Violence & Children.
Recent publications
Strengthening Foundations
Family Safety Victoria, published Strengthening Foundations; first rolling action plan 2019-2020, a document that details how Victoria will build the workforces that prevent and respond to family violence over the next three years.
Expert Advisory Committee on Perpetrator Interventions final report, 21 November 2019 Government of Victoria
The Expert Advisory Committee on Perpetrator Interventionswas established to advise government on the suite of family violence perpetrator interventions that should be available in Victoria to ensure the safety of more women and children. This report explores ways to strengthen existing and emerging perpetrator interventions.
Anrows
Thousands of kids are going back to school traumatised – and not just because of the bushfires
Children all over the country are packing their bags to go back to school—and this year, thousands of them are returning traumatised.  Those who have been affected by bushfires may be dealing with homelessness, dislocation, moving to a new school, and separation from their family members and friends.
Australian Institute of Criminology
Female perpetrated domestic violence: Prevalence of self-defensive and retaliatory violence
Differences between male and female perpetrated domestic violence are widely acknowledged. However, there is a lack of Australian data on the circumstances of female perpetrated violence.
Female perpetrated intimate partner homicide: Indigenous and non-Indigenous offenders
The current study was commissioned by the Department of the Prime Minister and Cabinet to examine the role of offender characteristics, historical circumstances and situational factors in female perpetrated intimate partner homicide, and how these factors may differ between Indigenous and non-Indigenous offenders.
In the news
ABC 3-1-2020: Jamming the revolving door of women in prison, Jill Prior is putting a new spin on Lady justice
The Age 30-1-2020: Victim family's anger over jail for man who killed partner, tried to burn body
The Age 28-1-2020: Rough justice: How police are failing survivors of sexual assault
The Age 18-12-2019: Why are our prisons full of domestic violence victims?