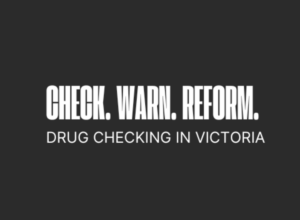 Media Relase, 23 October 2023
Check. Warn. Reform.
On Monday 23 October, the Victorian Alcohol and Drug Association in collaboration with RMIT University will release a statement supported by 77 health and community agencies which highlights the dire need for a drug checking and enhanced public alert system to be implemented in Victoria.
This will be followed by a press conference on Victorian Parliament steps at 10am on Monday 23 October 2023.
Organisations including The Youth Affairs Council, The Victorian Ambulance Union and Victorian Council of Social Service are calling for the new Victorian Government to adopt the unequivocal recommendation of the Coroners Court of Victoria to create a drug checking service for the state.
This is in response to a surge in fatal overdose of novel psychoactive substances (NPS) which mimic established substances but are often more harmful. People who use drugs are often not aware they may be consuming a NPS.
Drug checking services, located at events or as a standalone service, allow people to find out what is in their drugs while receiving a health intervention, to help them make more informed decisions. Warnings are also shared widely and rapidly with the community.
These life-saving services have been implemented in at least 28 countries, with the ACT currently running a drug checking service and Queensland to launch in 2024.
With an escalating rate of NPS-related fatal overdose, there is a pressing need to prioritise life-saving reforms such as drug checking which has been recommended four times by the Coroners Court of Victoria.
The statement can be found here: https://www.vaada.org.au/aod-advocacy/drug-checking-and-early-warning-systems-knowing-the-harms-can-prevent-the-harms/
Dr Monica Barratt, drug policy expert at RMIT University and author of the statement, says, 'In Victoria, we are missing an opportunity to get real-time information on changing drug markets. Drug checking services can prevent overdoses, both of people using the service and in the general community through informing public drug alerts. They inform us of new harmful substances before someone takes them, which are currently discovered through pathology tests taken in emergency departments or morgues. If we can prevent overdoses from happening in the first place, then we can ease the pressures on our emergency health system for all Victorians.'
Mr Scott Drummond, Program Manager, VAADA, says, 'This government has shown its commitment to reducing the burden of drug and alcohol related harms in this state. Sadly, there is still more work to do to save lives – with a simple next step being to develop a drug checking system, like ACT and Queensland and 27 other jurisdictions internationally. It's time to adopt the unequivocal recommendations from four Victorian Coronial findings and introduce a Victorian drug checking system before there are more deaths.'
Mr Nick Wallis, from Harm Reduction Victoria's DanceWize Program, says, 'Many harms caused by the prohibition of drugs are caused by lack of good information; this is one step towards addressing that. And if it can save one life, then it's an important step. Drug checking services are instrumental in curbing fatal overdose and broader substance related harms. This service will empower people to make more informed choices about their drug use which we know will reduce harm.'
Ms Debbie Warner, APOD Family Support, says, 'Over the years, we have seen many preventable deaths from people who have overdosed on hazardous substances that mimicked traditional drugs. I have a son who overdosed; while thankfully he survived, he experienced significant harm. This would have been avoided if we had drug checking services. As a mother, I can only look with envy to those other countries which have progressed these reforms and mourn in solidarity with the many parents who have lost children to preventable overdose.'
Mr Daniel Robinson Croft says, 'Taking a pill and hoping for the best is what led myself and many of my friends to the hospital due to drug related harms, with some never making it to the hospital due to overdose. If we knew what was in our substances and were given the necessary harm reduction strategies to reduce the harms when taking these substances, our stories would be different and some of our friends may still be around today. Many young people don't listen to the just say no campaign so the least we can do is prevent any avoidable substance related harms by introducing drug checking services.'
Media interviews:
Dr Monica Barratt, drug policy expert, 0407 778 938 or monica.barratt@rmit.edu.au
General media enquiries:
To contact the other commentators in this release, please contact Dave Taylor of the Victorian Alcohol and Drug Association, 0413 914 206
RMIT University, 0439 704 077 or news@rmit.edu.au