World's Largest Overdose Prevention Training

World's Largest Overdose Prevention Training
29 August 2018 @ 5:30 pm

-

7:30 pm

Free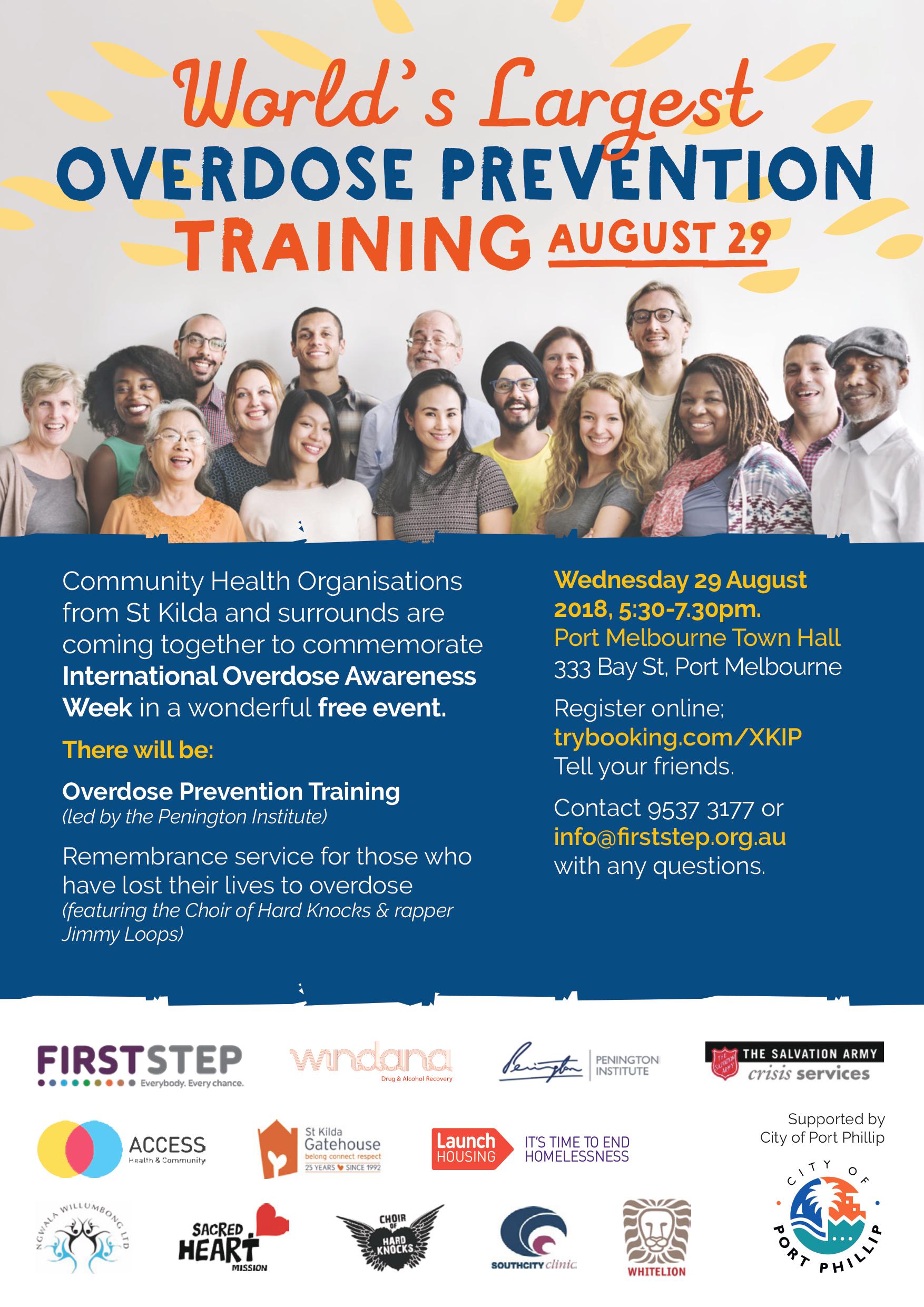 Designed to coincide with International Overdose Awareness week, The World's Largest Overdose Prevention Training is the coming together of 13 concerned organisations who saw an opportunity to help prevent overdose.  Our aim was both to honour those lost and to provide members of the community with the skills to recognise and prevent an overdose death where possible.
In 2017 we trained 90 people.  This year we hope to train many more and recent statistics released by the Victorian Coroners Court would indicate that the need is rising: 523 deaths due to overdose in 2017, 220 of those due to opioid overdose.
Please join us and become one of those equipped to help.  The details are:
When:                   Wednesday August 29th, 5:30-7:30pm
Where:                 Port Melbourne Town Hall (333 Bay Street, Port Melbourne)
Cost:                      FREE *reservations essential via trybooking.com/XKIP
What:                    Receive training in the skills that might just enable you to save a life:
Learn to recognize the signs and symptoms of overdose,
Receive practical training in the application of naloxone (an opioid reversal drug) and,
Walk away with an emergency Overdose Prevention Kit
Who should attend?
Absolutely anyone that is even slightly interested in the issue and everyone is welcome.  The event is particularly suited for anyone who uses opioid drugs OR anyone likely to witness someone using opioid drugs: friends, family, carers, support workers and outreach workers among others.
Following the training we will conduct a small celebration of community and resilience to honour those lost to overdose (featuring performances by the Choir of Hard Knocks and rapper Jimmy Loops).